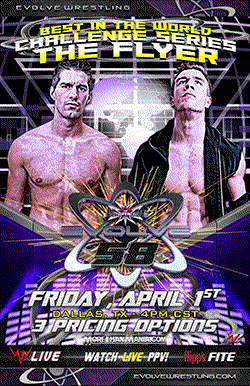 Yes, I am here to share with you that this Sunday is the debut of Chris Hero at Dragon Gate USA. Please feel free to click the poster right there and join me to watch Hero's debut, which it's the start of his return of the independent scene after Chris got released from WWE back on November 8th. Chris will be facing off against the DG USA Open Freedom Gate Champion, Johnny Gargano. Also, here is the information of the full card for Dragon Gate USA: Freedom Fight:
Dragon Gate USA presents
Freedom Fight 2013
Sunday, November 17th
Belltime - 7PM EST
Brooklyn Lyceum
227 4th Avenue
Brooklyn, NY 11215
Open The Freedom Gate Title Match
Open The Freedom Gate Champion Johnny Gargano vs. Chris Hero
Grudge Match
Ricochet vs. Anthony Nese with Su Yung & Mr. A
The Final Chapter
Open The United Gate Champions The Young Bucks vs. AR Fox & Masaaki Mochizuki
Special Challenge Match
Trent Baretta vs. Rich Swann
International Tag Team Attraction
Genki Horiguchi & Jimmy Susumu vs. The Bravado Brothers
Bonus Tag Team Match
Jigsaw & Fire Ant vs. Caleb Konley & Andrew Everett
Establishment vs. New Talent Match #1
Chuck Taylor vs. Mr. Touchdown
Establishment vs. New Talent Match #2
Jon Davis vs. Steven Walters
The iPPV is in three prices: $9.99 for Live Viewing Only!, $14.99 for Live Viewing and Video on Demand, and $24.99 for Live Viewing, Video on Demand, and DVD of the iPPV!
Also, check out other promotionals Video on Demand of other iPPVs!