Okay, I am going to do this, since this is the second blog of 2014. So, I am going to put a subject and give the best and worse of it. So, here it is:
First: Tim Donst
Tim Donst at Vicious Outcast Wrestling (Credit: Donst.com)
Details:
It was back in August, I was talking to my twitter friends Dominique and Valentyna on Facebook about our friend Naomi meeting WWE Superstars, and I was hoping she would meet Chris Hero and Claudio Castagnoli at Summerslam, when I saw that I been follow by a guy on twitter. I look at him and see who he is. I read and it says on the display name, Tim Donst. So, I am thinking,
another wrestler who is going to unfollow me in a few days.
But, I read his bio on twitter and when I read that when he was a former Young Lions Cup holder, it just hit me. I realized that he was in Chikara. So, I had to do some digging after I had to tell Dominique and Valentyna about him. So, I learned that he was trained by Mike Quackenbush and Chris Hero. It was very interesting that I been followed by a student of Chris Hero and I decided to take a leap of faith and follow him. Because of that, I look in of what he had done. It was very interesting that Tim had been wrestling for more than five years and he had his ups and downs. But, mostly towards this year.
Worse:
Before Tim followed me in August, he had a wrestling match in June against ring announcer Gavin Loudspeaker in a hair vs. hair match. It was the worse, in my opinion is that Tim lost in his second match that got him wagering his hair, since he lost to Hallowicked in a hair vs. mask match in 2012.
Best:
After a few months since he followed me, around November, Tim defeated Michael Hutter at Absolute Intense Wrestling, and I learned that he challenge Chris Hero to a match at the last Absolute Intense Wrestling show, Dead Presidents. When that match happened, I heard that not only did those two tore the house down, but after the match, Tim got really sick. He ran a fever of 105 or 106. But, what also contribute to it is that he had a concussion. I felt bad that he did not feel well. I don't know if he is fine, but, it seems so.
Second: Chris Hero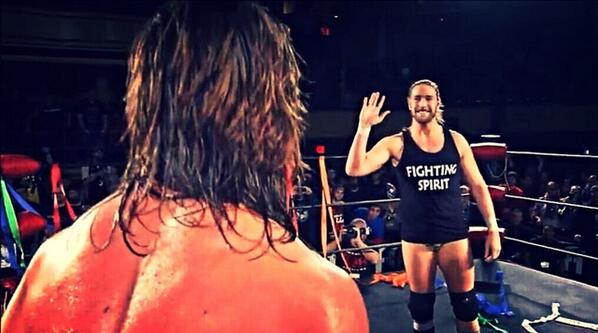 Chris Hero waves hello to Adam Cole before decking him with a rolling elbow at Ring of Honor's Final Battle 2013 (Credit: Chris Hero's twitter account)
Details:
I was waiting for the right time to go home from a day of doing class, I decided to scan on my twitter account, when I saw BB, a twitter follower, tweet to Chris Hero. So, I turn to Valentyna on Facebook and I ask her if I should send a tweet to Chris by saying hello. She said that I should. So I went for it. After I send the tweet, I was talking to Valentyna about Dominique, Tyler Black, and Chris, when all of a sudden, as I was about to finish up telling Valentyna about Chris, I got interrupted by my iPhone twitter alert that displays who tweeted to me on my twitter iPhone app. Sure enough, I was in shock and had to tell Valentyna. Chris sure enough tweeted back to me with a happy emoticon. I felt real happy that day.
Worse:
Before that happened, a few nights ago after I watched Haven on Syfy to see Adam Copeland (WWE Hall of Famer, Edge) and the rest of the Haven cast (and tweet along), when all of a sudden, Scott Fishman tweeted that WWE release Chris Hero. I was livid. I did not know why. A lot of news reports claim the rumor that the reason why Chris was released due to his weight, which that sounds a lot of BS, because there are those on the main roster are in nearly out of shape. However, I believe the real truth is that they had nothing for him and had to let him go. But, I suspect more. But, that's just me.
Best:
Before he got released by WWE, Chris had an epic match against William Regal and I was sure amazed about it. That is what I saw back in April, but after he got released, he was getting back to the independent scene. The best since he got back into the independent scene is that he faced against Tim Donst and sure enough they tore the house down as I seen by tweets. However, Tim tried to use a submission hold, which I seen a photo by The Ohio Report that he was going for the Chikara Special on Chris. Sure enough, Chris got out of it, but, in the end, Tim won. After the match, besides that Tim got sick with a fever, Chris said that they have unfinished business. I would love to see the match and hope that they do have another match.
Well that's all I could think of... my mind is kaput. Stay warm everyone.